Fancy 'owning' part of the new pitch?! We are 'selling' off pitch squares to raise money for the new pitch and the club in general. Take a look at the Pitch Puzzle in the clubhouse then follow these steps….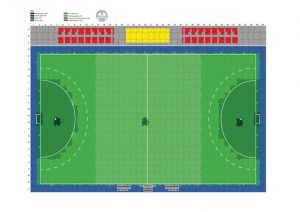 Choose the piece you want, noting the area it's in, its number (eg L,27) and its value (see key). If there is no name or orange reserved sticker on it then it's available. Prices are…
Inside the Ds £30 a piece (excluding penalty spots and goals)
Inside the 23m area £20 a piece (excluding the D)
Dugouts and Technical areas £30 a piece
Centre quarters £10 a piece (excluding centre spot)
All other areas £10 a piece – Stands/tea hut/pitch surround
Penalty spots, the centre spot and the goals are being auctioned at the CHC ball on Friday 12th Make sure you're there if you if you want one of them!
To pay for the pieces you want there are 2 options:
Pay online via Virgin Money Giving here:
virginmoneygiving.com/fund/pitchpuzzle
If you are a UK tax payer we can claim Gift Aid so please indicate this when asked.
Pay by cash at the bar – If you are a UK tax payer please complete a Gift Aid form.
Only once you have made payment can you write your name on your jigsaw piece in the clubhouse.